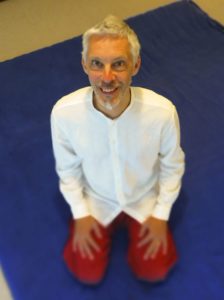 Already during my studies of electrical engineering in the 90's it became clear to me that my fulfillment will not lie in the technical field, but that my work should include human beings and touch. At that point I only did not know in which way.
After finishing my studies I came in contact with Shiatsu – and was immidiately on fire. This was it that I had to learn!
So I begun in the beginning of 1999 the 2 1/2 year long training as Shiatsu practitioner at the School for Yoga and Shiatsu "Yoshi" in Düsseldorf according to the guidelines of the German Foundation for Shiatsu (GSD).
In the beginning of the Shiatsu training one of my teachers braught me in contact with Yoga. At that point I had strong prejudices against Yoga and spirituality in general, but it was fortunately too late: For the second time something very beautiful touched me so intense that it was clearly more than simple fascination.
From the first day on I started to practice Yoga for myself and to dive by the means of seminars, classes and literature into this boundless ocean of practice and knowledge.
When I met the Yoga master Shri Yogi Hari, who later on should become "my" Yoga master (Guru), I knew that it will chuck my work as engineer in and immerce myself into the studies, the teachings and the life of Yoga.
I went for two years into the Yoga center, the Ashram of Shri Yogi Hari, completed his Yoga teacher training courses which embrace all different aspects of Yoga and which are certified with Yoga Alliance with 500 hours. I had the invaluable opportunity to live in permanent, personal contact with a living Yoga master and to learn from him.
Further trainings
Workshops with Shiatsu master Kishi Sensei (Seiki Soho).
Training Cranio-Sacral Therapy (CST1-4), Upledger Institute Germany.
Thanks
Looking back (and also forward), I feel very grateful to my teachers:
Christananda K. Sydow for vivid and deep Shiatsu teaching and for my introduction into Yoga;
Ulrich W. Wirth for warmhearted and clear teaching of Shiatsu;
Jutta Qu'ja Hartmann for bound- & selfless passing on of knowledge on all levels and for being there;
Shri Yogi Hari for unconditional sharing of his vast treasure of experiences and for his love.
Kishi Sensei for adept clarity, simplicity und warmth beyond any form.